Why Pioneer of Log Homes B.C.
"Pioneer the finest Handcrafted Cedar Log Homes on Earth"
Why Pioneer Log Homes of BC? – Founder of Pioneer Log Homes of BC. From the start, Bryan Reid Sr. Has enjoyed sharing his passion for log home beauty and quality. Learning his trade under the guidance of a local native craftsman and friend Samson Jack. Bryan's reputation for quality and craftsmanship quickly grew. In 1973, Bryan established Pioneer Log Homes of British Columbia in Williams Lake. Some 340 miles north east of Vancouver in British Columbia. The rest is history over 40 years later and counting. Bryan's dream from day one in 1973 was always to surround himself with his family and friends that we consider family. We would have to say that Bryan's dream has come true. You can see his full biography here.  It is Pioneer's mission to totally service their clients before, during and after the building of your dream home.

01
Every Pioneer Log Home is assembled by a team who painstakingly, handcraft every detail and deliver your home on time, on budget and in balance with nature's perfect creations.
Pioneer logs are hand-peeled at their building sites using a drawknife, all of the corner notches are hand-polished and all of the logs are dimensioned and fitted precisely for the best performance and character.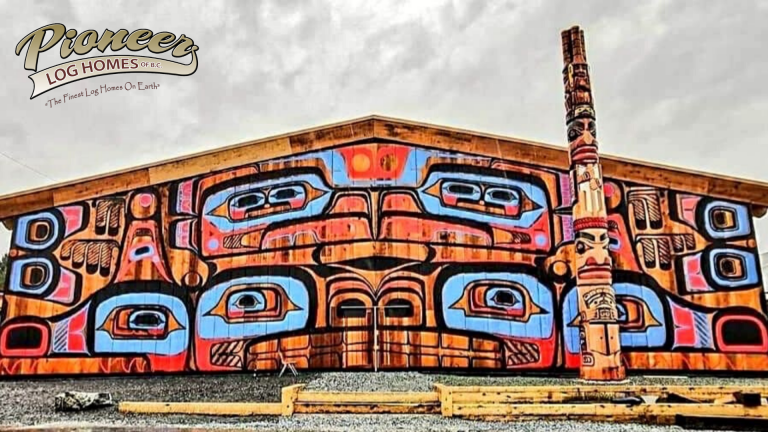 02
With decades of experience, Pioneer Log Homes of BC can develop your working construction drawings.  Pioneer employs architectural experts, who definitely will exceed all of your expectations.  You can also or solely appoint an expert UK Architect to oversee your designs, for U.K. compliance. Here at BCos Logs we are happy to recommend Architects or Trades to finish your dream build.